If you're wondering why we still don't know what Harley-Davidson's MY21 range looks like, a combination of Covid and changes at the top of Harley-Davidson deferred their usual Autumn announcement, but we will all know on the 19th January 2021.
That's when The Motor Company will unleash the whole lot in a global virtual launch that will lead to utter chaos as the social channels will fill up with the same sort of half-arsed nonsense that has proliferated since Autumn, as speculation has grown, because the knee-jerk reactions as everyone attempts to be the fastest with the news will bypass the context of any changes.
I suspect that a part of the decision to allow the wider media to speculate wildly, rather than giving firm information, comes down to the general idea that the only thing worse than being talked about, is not being talked about, but Oscar Wilde predated the Internet by many years and might think twice about releasing that witticism on the world if he were alive today.
Today, businesses are failing on the information that is proliferating, confidence has never been lower and there will be plenty of wits, gits and twits – some call themselves 'influencers' – attempting to demonstrate how clever they are at Harley-Davidson's expense. It's not hard and you can look really good, and quickly with a cheap shot.
Thankfully, there are some good and independent 'new media' outlets – there must be, purely based on the law of averages – who will give a considered verdict on the news … and of course we will be there putting our spin on it, too, and in detail.
For your first sight of the changes, though, I recommend that you sign up for the H-D 21 Virtual Launch Experience on the link in the following press release and lets see where we go from there …
What we can tell you, though, is that stories of the death of the Sportster have been exaggerated – the Sportster Iron 1200 is certainly hitting showrooms this year despite all Euro 5 protestations – and we will have the Fat Bob, Low Rider S and the Road King at the very least … because we've got pictures of them! And the Pan America will be dropping in, obviously.
• • • PRESS RELEASE • • • PRESS RELEASE • • • PRESS RELEASE • • •
Oxford (9th December 2020) – Throughout Harley-Davidson's 118-year history, the brand has never before brought the entire world together to experience the debut of all-new Harley-Davidson® motorcycles. On 19th January 2021, that all changes with a single virtual event. During H-D 21, the company's first virtual launch experience, Harley-Davidson will announce new 2021 motorcycles, parts and accessories, riding gear and apparel.
Those who participate will hear from Harley-Davidson leadership, product experts and passionate enthusiasts who are leading and shaping the industry on all that is coming to Harley-Davidson® dealerships in 2021.
To take part in the H-D 21 virtual launch experience, register here.
New approach to product launches
The global virtual launch is part of the company's streamlined and overhauled approach to bringing products to market for customers. Earlier this year, Harley-Davidson announced significant shifts including streamlining its planned product portfolio by 30 percent, shifting its new model year debut to align with the start of the riding season and amped-up marketing efforts to drive desirability and maximise impact in the market.
"We're thrilled to bring the world together virtually to showcase the inspiration and passion behind our 2021 motorcycles, including a glimpse of our first adventure touring motorcycle, Pan America," said Theo Keetell – VP Marketing. "We look forward to sharing this moment with our customers and dealers from around the world."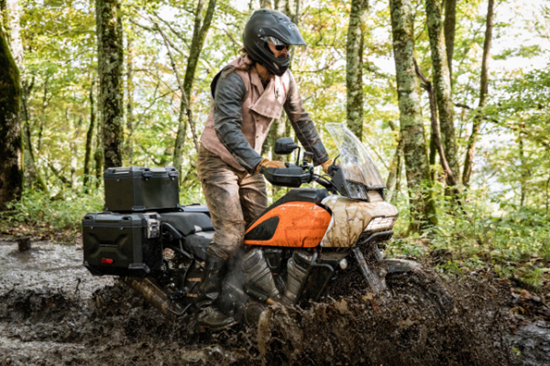 Adventurer Jason Momoa shares his passion
American actor, producer and motorcycle enthusiast Jason Momoa will play a key role in the 19th January event. Forever seeking new adventures, Momoa will share his thoughts on how Harley-Davidson's upcoming Pan America motorcycle has expanded his passion for Harley-Davidson and created new opportunities to explore endless horizons beyond paved roads.
"Harley-Davidson has unlocked opportunities for me to find adventure with amazing people, awe-inspiring places, and expand my inspiration as seen in the United We Will Ride content series," said Momoa. "I was excited to collaborate with Harley-Davidson for a first look and chance to ride the Pan America 1250 motorcycle. It's the perfect vehicle that combines my love of the outdoors, the unknown, and Harley-Davidson. People are going to be completely stoked about this bike that Harley-Davidson has created."
Harley-Davidson Pan America Global Reveal – 22nd February 2021
The all-new Harley-Davidson® Pan America™ 1250 adventure touring motorcycle will be previewed in the 19th January H-D 21 virtual launch experience. Harley-Davidson will be bringing the world back together on 22nd February 2021, with the spotlight on the new Pan America motorcycle to reveal the motorcycle's full details in a separate digital event.